Beijing 2015 800 m reports and preview
[Final report] [Semifinal reports] [Heat reports] [Preview]
Beijing 2015 800 m final report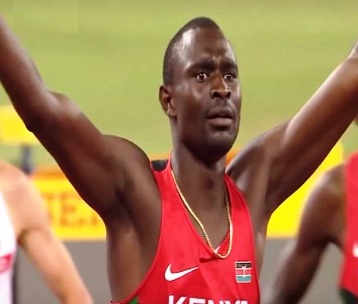 David Rudisha holds his arms aloft in triumph. He has regained his World Championship title. Leading from start to finish he never came under any real threat.
In retrospect the deciding moment of 2015's World Championship may have been two days before the final. When Nijel Amos misjudged his semifinal race and failed to qualify for the final that had big implications. Rudisha was well aware that the young Botswana athlete had consistently outpaced him on the final straight. But with Amos out that threat was gone - and Rudisha took full advantage. He took the lead, gradually accelerated, allowed no one to pass him and became World Champion - it was all as simple as that.
None of the other athletes appeared to have a race plan ready to alter that course of events. Surely they must have realized that allowing him to run from the front would play right into his hands. But such is Rudisha's stature that nobody dared to challenge him for the lead. Even when the first 200 metres were run at a sedate pace everybody was happy to follow Rudisha's lead. And they reached 400 m in 54.15 with Rudisha still leading, Cheruiyot at his shoulder and all the others following in a tight bunch with Tuka as expected in last position,
Predictably Rudisha went faster and faster from that point. On the back straight the final had its most exciting moment when Kszczot felt he had an opportunity to pass Rudisha on the inside, but the Olympic Champion reacted immediately and shifted to another gear. Kszczot was able to follow, Cheruiyot was in third position and Tuka had improved to fourth. On the final straight Rudisha ran majestically and his win was never in any doubt. Kszczot was able to stay a few metres behind him but never came closer. Tuka couldn't produce one of his devastating sprints but did manage to edge out Cheruiyot for the bronze, thus earning Bosnia-Herzegovina their first ever World Championships medal.
I wasn't interested in a fast time today, I was just looking for the win Rudisha said after the race. And yes, after last year he had had his doubts whether he would be able to reach world class level again. And the happy smile on his face said it all - he may have been away for a few years but as of this race the king is definitely back.
    Result:
 1. David Rudisha             KEN 1:45.84
 2. Adam Kszczot              POL 1:46.08
 3. Amel Tuka                 BIH 1:46.30
 4. Ferguson Rotich Cheruiyot KEN 1:46.35
 5. Pierre-Ambroise Bosse     FRA 1:46.63
 6. Musaeb Abdulrahman Balla  QAT 1:47.01
 7. Nader Belhanbel           MAR 1:47.09
 8. Alfred Kipketer           KEN 1:47.66

Note: Retesting in 2017 revealed Belhanbel had used a banned substance; he was subsequently removed from the final result
---
Beijing 800 m semifinal reports
Three semifinals, so only the first two would qualify by right and two fastest losers would also go through.
Semifinal 1
Kszczot started fast, but may have been a bit surprised to find himself in the lead after 200 metres. He kept a decent pace though, passing 400 after 52.35, ahead of Kupers, Aman and Kipketer. On the back straight Kszczot just ran on steadily which prompted Kupers to attack and try to go for the lead. Kszczot responded, accelerated, and Kupers could not go with him. Kipketer attacked on the outside, Aman also wanted to move forward, tried to go inside of Kupers where there simply was no room and bumped into the Dutchman. Aman stumbled, lost a lot of speed and ground and had to claw his way back into the race. Meanwhile Bosse had passed as well and challenged Ksczot and Kipketer for the lead. Kszczot hung on desperately, Kipketer ran wildly, Bosse sprinted and Aman ran his heart out and at the finish four renners finished virtually level. The photo showed that Kszczot and Kipketer qualified automatically, while Aman and Bosse had to wait and see if their times would be fast enough. That eventually proved to be the case. But more drama was to follow - Aman was deemed to have impeded another runner (Kupers) and was therefore disqualified. He will be very disappointed to be unable to defend his world title in the final.

    Result:
 1. Adam Kszczot              POL  1:44.97 Q
 2. Alfred Kipketer           KEN  1:44.99 Q
 3. Pierre-Ambroise Bosse     FRA  1:45.02 q
 4. Kevin López               ESP  1:45.84 
 5. Amine El Manaoui          MAR  1:46.09 
 6. Clayton Murphy            USA  1:46.28 
 7. Thijmen Kupers            NED  1:47.74 
 -  Mohammed Aman             ETH  DQ (1:45.01) 


Semifinal 2
Would Rudisha be able to finish ahead of his bogey man - Nijel Amos? Rudisha only knows one way to run and took the lead. Rotich for a moment appeared to challenge him for the lead, apparently had second thoughts and settled in behind him. The pace was moderate, 54.04 at the bell, which immediately made it clear only two would qualify. Amos looked to be in a good position, but didn't pay attention for a few seconds and when Tolokonnikov moved quickly forward on the back straight he went past Amos. Amos had to go around again, and lost a few vital metres. Meanwhile Rudisha accelerated, Rotich and Balla hung on and Amos desperately fought himself back into contention. He managed to pass the fading Rotich, then came level with Balla, but in the last two metres had to give in to a final effort from Balla. And so Rudisha qualified relatively comfortably but one of his main rivals, Nijel Amos, went out. A major shock.

    Result:
 1. David Rudisha             KEN  1:47.70 Q
 2. Musaeb Abdulrahman Balla  QAT  1:47.93 Q
 3. Nijel Amos                BOT  1:47.96 
 4. Konstantin Tolokonnikov   RUS  1:48.32 
 5. Abraham Rotich            BRN  1:48.61 
 6. Ali Al-Deraan             KSA  1:48.71 
 7. Antoine Gakeme            BDI  1:48.86 
 -  Jeffrey Riseley           AUS  DNS


Semifinal 3
Cheruiyot started quickly and took the lead while Tuka settled in near the back of the field, as he usually does. Although Cheruiyot has a deceptively easy style he still ran pretty hard and reached halfway in 52.01 turning this into the fastest semi of the three. Going into the back straight Tuka slowly worked his way forward. As Cheruiyot wound up the pace the field stretched and only Lewandowski stayed with the Kenyan while Tuka kept moving forward. On the final straight Tuka found yet another gear and made sure of qualifying. Belhanbel put in a late effort and finished third ahead of Lewandowski. That appeared to be of little consequence at that moment, until it transpired shortly afterwards that Aman had been disqualified from the first semifinal. Belhanbel must have been pleasantly surprised when his time was suddenly qood enough to make the final.

    Result:
 1. Amel Tuka                 BIH 1:44.84 Q
 2. Ferguson Rotich Cheruiyot KEN 1:44.85 Q
 3. Nader Belhanbel           MAR 1:45.28 q
 4. Marcin Lewandowski        POL 1:45.34 
 5. Mark English              IRL 1:45.55 
 6. Rafith Rodríguez          COL 1:45.63 
 7. Erik Sowinski             USA 1:47.16 
 8. Jena Umar                 ETH 1:48.68 

And so the semifinals brought some major shocks. Both Nijel Amos and Mohammed Aman had trouble judging their efforts - both let themselves be boxed in and paid the price. Rudisha, Kszczot and Cheruiyot all kept out of trouble and qualified from the front. Tuka used his trademark even pace to qualify convincingly. Those four appear to be the major candidates to do well in the final.
---
Beijing 800 m heat reports
Six heats with around seven runners in each heat. The first three would qualify automatically for one of the three semifinals, with six further athletes qualifying on time.
Heat 1
Both Amos and Gakeme hung well back during the first lap and left it to the others to make any sort of decent pace. Loxsom was a reluctant leader and they reached halfway in a pedestrian 54.70. On the back straight Amos and Gakeme moved forward, and the only one who could respond was Al-Deraan. Schembera put in a lot of effort to get into a fastest loser position, but, as it turned out, in vain.

    Result:
 1. Nijel Amos            BOT  1:47.23 Q
 2. Antoine Gakeme        BDI  1:47.67 Q
 3. Ali Al-Deraan         KSA  1:47.65 Q
 4. Robin Schembera       GER  1:48.04
 5. Joshua Ralph          AUS  1:48.90
 6. Casimir Loxsom        USA  1:48.97
 7. Khalid Benmahdi       ALG  1:49.61


Heat 2
Benedetti, Murphy and Repcik were early leaders, but although they ran in single file the pace was not particularly fast and they reached the bell after 54.14. From there on Aman and Bosse moved forward, but Benedetti and Repcik hung on for a long time and it wasn't until the last 50 metres that Aman and Bosse managed to pass them. Murphy, had seemingly run out of gas a bit earlier, but it turned out to be a clever ploy and he just outsprinted both Repcik and Benedetti to grab the third qualifying spot.

    Result:
 1. Mohammed Aman         ETH  1:47.87 Q
 2. Pierre-Ambroise Bosse FRA  1:47.89 Q
 3. Clayton Murphy        USA  1:48.08 Q
 4. Giordano Benedetti    ITA  1:48.15
 5. Jozef Repcik          SVK  1:48.26
 6. Jamal Haraine         QAT  1:48.96
 7. Kyle Langford         GBR  1:49.78


Heat 3
Rodríguez, followed by Sowinski and English, took care of a decent pace in this heat, while Tuka, fastest man this year, was happy to stay at the back. The first lap went in 52.52, considerably faster than the first two heats. Tuka left his efforts late but on the final straight looked very easy as he secured the win. Belhanbel sneaked though on the inside while Rodríguez hung on for third. But Sowinski and English had done just enough to qualify as fastest losers as well.

    Result:
 1. Amel Tuka             BHI  1:46.12 Q
 2. Nader Belhanbel       MAR  1:46.23 Q
 3. Rafith Rodríguez      COL  1:46.39 Q
 4. Erik Sowinski         USA  1:46.63 q
 5. Mark English          IRL  1:46.69 q
 6. Zan Rudolf            SLO  1:47.24


Heat 4
Kupers had obviously decided that only a fast pace could save him - and he took the lead, ran away from the field and reached the bell after 51.86, making this easily the fastest heat. He didn't yield his leading position until the final straight, but then Cheruiyot and Lewandowski seemed to stamp their authority on the race. El Manaoui and López found a bit extra though, and Tolokonnikov sprinted to the line, while Lewandowski seemed either surprised or tired - he only finished fifth. Since this was the fastest heat he still managed to qualify though, and even Kupers, finishing sixth, was rewarded for his audacious approach with a place in the semis.

    Result:
 1. Ferguson Rotich Cheruiyot KEN  1:45.83 Q
 2. Amine El Manaoui          MAR  1:45.86 Q
 3. Kevin López               ESP  1:46.06 Q
 4. Konstantin Tolokonnikov   RUS  1:46.07 q
 5. Marcin Lewandowski        POL  1:46.25 q
 6. Thijmen Kupers            NED  1:46.70 q
 7. Musa Hajdari              KOS  1:47.70
 8. Brice Etes                MON  1:48.52


Heat 5
Umar took the lead and Kszczot was happy to settle in behind him while Kipketer was at the back of the pack. Umar reached halfway in 52.62, a pretty decent pace. Almgren and Kipketer moved forward and for a brief moment Kszczot looked in a bit of trouble, but on the final straight he moved outside and outpaced everyone. Almgren went backward rapidly, but Kipketer worked hard and hung on for second spot. Riseley came from the back and sneaked into third place. Umar was rewarded with the sixth and last qualifying fastest loser time.

    Result:
 1. Adam Kszczot           POL  1:46.62 Q
 2. Alfred Kipketer        KEN  1:46.67 Q
 3. Jeffrey Riseley        AUS  1:46.79 Q
 4. Jena Umar              ETH  1:47.03 q
 5. Abdelati El Guesse     MAR  1:47.79
 6. Andreas Almgren        SWE  1:48.06
 7. Reinhardt van Rensburg RSA  1:48.61


Heat 6
Rudisha took the lead at his leisure - and the respect for the great man is so immense that no other athlete ventured to challenge him. That meant that the first lap took all of 55.63, and therefore nobody but the first three would qualify. Rudisha accelerated gradually, Rotich and Balla settled in behind him. Rimmer fought hard but just failed to get into the top three. But the others will be very disappointed with their race as they never really gave themselves a chance to qualify.

    Result:
 1. David Rudisha            KEN  1:48.31 Q
 2. Abraham Rotich           BRN  1:48.42 Q
 3. Musaeb Abdulrahman Balla QAT  1:48.59 Q
 4. Michael Rimmer           GBR  1:48.78
 5. Andreas Bube             DEN  1:48.94
 6. Artur Kuciapski          POL  1:49.22
 7. Cleiton Abrão            BRA  1:49.79

---
Beijing 800 m preview
In recent World Championships quite a few favourites were missing through injury. This year though almost every athlete that one would expect to see is actually on the starting list, with just two exceptions. Ayanleh Souleiman (bronze medallist two years ago) is running the 1500 m. But the real absentee is Nick Symmonds, winner of the silver medal in Moscow. Symmonds has refused to sign the necessary documents after a serious conflict with the American federation. Symmonds felt they asked too much from him and gave too little in return - you can find the story here. It's sad that such a great athlete will not be able to run.
There is no clear favourite this year. Many athletes look contenders for a medal though.
Mohamed Aman (ETH)
Reigning World Champion he still is, but his season has had ups and downs. Quite a few downs, really, and in several races he finished way down the field. It will be a minor surprise if he can defend his title.
David Rudisha (KEN)
Olympic Champion, World record holder, he must be one of the favourites. And yet even he cannot have travelled in total confidence - because he has won precious few of his last few races.
Nijel Amos (BOT)
Fastest man of 2014, and also the man who keeps beating Rudisha. Ever since the Olympic final he has never lost to Rudisha. On the other hand he did score quite a few wins, one of them at last year's Commonwealth Games.
Amel Tuka (BIH)
Suddenly last month someone managed to beat Amos and even run the fastest time of the year. Was that a fluke or can he reproduce that sort of running over three rounds?
Ferguson Rotich Cheruiyot (KEN)
Winner of the Kenyan trials, which takes some doing. He usually runs slow in the first round and then makes up lots of ground in the second. But racing like that requires perfect timing and on many occasions he left his efforts too late to challenge for the win. If he can get it right he could be a major contender.
Adam Kszczot (POL)
European Champion, twice European Indoor Champion, Kszczot is a man used to winning. On a good day he can outsprint almost everyone, so he will certainly be looking for a medal at least.
A few other athletes will be worth keeping an eye on. Alfred Kipketer is a young Kenyan talent, but he must make sure he doesn't start too fast or spend too much energy in the heats. Marcin Lewandowski is a very experienced Polish runner and a former European Champion as well. Pierre-Ambroise Bosse (FRA) can run very fast but must resist leading from the front all the time. And Antoine Gakeme (BDI) has improved himself recently and could be a dangerous outsider.
For most others though reaching the final will be a pleasant surprise. Mark Englsh (IRL), Andreas Bube (DEN) and Abdulrahman Balla (QAT) are among those who could do it. With Symmonds out (and new talent Boris Berian missing selection) the USA can only hope for a finalist - neither Cas Loxsom, Erik Sowinski or Clayton Murphy look more than an outside bet. The hopes of Great Britain rest with Michael Rimmer and Kyle Langford - can they reach the final just like Osagie did in 2012? Finally any of Giordano Benedetti (ITA), Artur Kuciapski (POL), Jeff Riseley (AUS), Nader Belhanbel (MAR) or Thijmen Kupers (NED) could surpass most people's expectations.
---