However big the success of Treasure may have been, it did not prompt a follow-up in similar style. Almost as if afraid of becoming too popular the Cocteau Twins took another unexpected turn and came up with Aikea-Guinea, an EP containing somewhat easier accessible material. Were they growing tired of (not) trying to explain the unexplainable?
The atmosphere on this EP is very mixed, even within just four songs. The title track sounds like a serious contender for a hitparade, then there is their first ever release of an instrumental track (Rococo) and the mystical Quisquose. The band apparently were looking for new ways after Treasure, and would continue to do so for several releases. Aikea-Guinea witnesses the success of the first part of their quest.
The Aikea-Guinea EP was later included in both The Box Set and the Lullabies To Violaine compilation.
Aikea-Guinea
Aikea-Guinea is about as close as the Cocteau Twins ever got to creating mainstream rock music. Far from being an average hit song the track at least features easily appreciated melodies, and a nice and simple rhythm.
While there are lots of percussion it is remarkable how totally different they sound from the Treasure fireworks. Gone are the heavy, spatial drums and the majestic cymbals. Instead we hear a rather straightforward rhythm, with lots of emphasis on count three out of four, something they'd also experiment with in Quisquose.
The vocals are arranged beautifully, switching continuously between several melodies. There's no verse/chorus structure, but just three vocal episodes. Liz presents us with two melodies during the first episode, then makes it three different melodies in the two others. The first and most obvious melody starts out on high notes, but then comes down in a series of ever descending pitches, probably the song's most conspicuous feature. In contrast another melody contains a number of rising pitches, while the third one seems to have hardly more than just a single note. Together they give Liz ample opportunity to create a marvellously varied vocal landscape.
Being a Cocteau production the track has much more to offer of course. There are more rising/descending effects in the guitar parts and great stereo effects in the percussion. There's a tambourine and a background that provides a 'grand' atmosphere. But in general Aikea-Guinea is just a lovely song, and also yet another proof that the band could almost totally abandon the style from previous albums and still come up with a wonderful composition.
A differently (but not necessarily better) mixed version was included on The Pink Opaque.
Kookaburra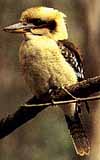 A Kookaburra

For a start, a Kookaburra is a species of kingfisher, that lives in Australia. It is known for its specific call resembling human laughter. None of this supplies any clue why the song was named after it, but of course followers of the Cocteau Twins are familiar with even more mysterious song titles.

The song itself starts out fairly straightforward: a fairly loud guitar, bass, and heavy percussion all work together to accompany the vocals, in which we find Liz singing all the rrr's unusually pronounced, as if she was to prove a point concerning her Scottish origin.

As the song goes on though more complexity is woven in. Background vocals are added, a piano can be heard and the guitar mixes in some different melodies. In the last part the percussion goes into a higher gear as well. And so the main melody is played once more with every instrument putting in their best efforts yet.

Finally it would seem everybody, as if exhausted by the episode, simply packs up and goes home, and the song comes to a grinding halt, leaving the listener with a final dying note and a definite feeling of some mission having been completed successfully.
Quisquose
Those who feel songs with just verses and choruses are boring should try listening to Quisquose. The song lacks both of them, and while that makes the structure of the song rather opaque, its style is nearly impossible to describe as well. Comparing it to another Cocteau song doesn't work either, because it doesn't really resemble any of their other works, although it is still unmistakeably a Cocteau song.
The first striking feature of the song is a piano, which goes one-two-THREE-four, one-two-THREE-four, putting lots of emphasis on every third count, just like the percussion in Aikea-Guinea. But there's only a limited amount of percussion used here, and where it is used it's quite playful. It's the piano that takes care of all the rhythms, from beginning to end.
Secondly there's the vocals. Although Liz had seemed to use her voice as some kind of instrument many times before, on Quisquose she really takes the concept to its limits. With fantastic wails, howls and cries she provides an incredible background for her own regular vocals, although the lyrics of those appear to be as totally incomprehensible as usual.
Once the stage is set by these two the guitar enters the frame. With a shimmering curtain of vibrating sounds it completes the dazzling picture of this track. And of course the band bring in a few extra effects towards the end before the piano, fittingly, has the last word.
All in all we are treated to a very successful experiment of Cocteau songwriting. Quisquose is a fittingly unusual name for such an unusual song.
Rococo
Here's a question: you are lucky enough to have one of the greatest singers around in your band, so what do you do? Answer: you record an instrumental track. Always expect the unexpected from the Cocteau Twins!
Everyone familiar with Rococo will recognize immediately the song contains two very distinct parts. On starting out the sound is so soft it is hard to hear anything at all. Then, after 40 seconds of very subtle music, the track explodes into booming guitars, bass and drums. From here on the music drives on like a steam engine, relentlessly delivering its three-time rhythm, eventually culminating in some great guitar riffs.
The question "why no vocals?" can thus be answered easily. The first part is much too soft too allow any vocals at all. During the second part even Liz' fabulous voice would probably have drowned in the wall of sound.
As with so many Cocteau tracks we find that what at first seems unusual, odd, or even downright absurd makes pretty good sense after all. In the case of Rococo omitting the vocals produced a masterpiece of guitar rhythms.